Este post lo armo por la noticia que hubo de una familia argentina bajada de un avión en Miami.
No para decir que hagan tal o cual cosa…
Estados Unidos tiene un sistema distinto a los demás países del mundo o de la mayoría.
¿Cómo es en Argentina? Uno puede moverse entre países con hasta 10.000 dólares por adulto y 5.000 dólares por menores sin declararlo.
Eso lo dice en el papel que uno llena para declarar al ingresar al país. No lo entregan cuando uno se va (tampoco en USA) pero si uno lleva más de 10.000 es un delito "no declararlo". Si es una pareja… son 20.000 dólares, si es una matrimonio con un hijo, son 25.000 dólares. Es simple.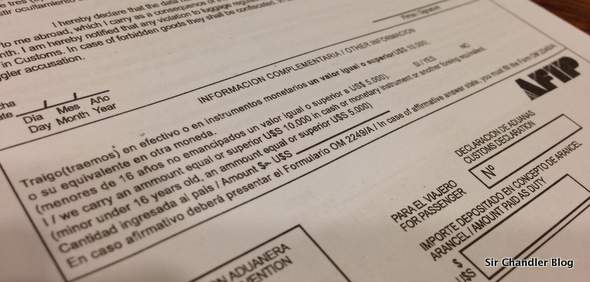 La noticia, tratada muy a la ligera por los medios, estimo en parte por la poca información, habla de que un matrimonio con 3 hijos fue bajada de un avión por tener 12.500 dólares sin declarar.
De ser esto cierto… ¿Cuál es el delito?
En Estados Unidos es distinto.
Uno a o desde Estados Unidos se puede mover con el dinero que quiere… ¿Y entonces?
Si uno se mueve con más de 10.000 dólares POR GRUPO FAMILIAR, simplemente hay que declararlo…
Es legal transportar cualquier cantidad de dinero u otro instrumento monetario
al entrar o salir de los Estados Unidos. Sin embargo, si usted transporta o intenta
transportar en forma personal o a través de terceros (ya sea por correo u otro
medio) dinero u otros instrumentos monetarios por un monto total que exceda
US$10,000 (o su equivalente en moneda extranjera) de una sola vez desde los Estados
Unidos a cualquier lugar extranjero, o viceversa, deberá presentar un informe ante
la Oficina de Aduanas y Protección de Fronteras de EE. UU. (Customs and Border
Protection – CBP), denominado "Report of International Transportation of Currency
or Monetary Instruments" (Informe de Transporte Internacional de Divisas o
Instrumentos Monetarios), el Formulario 105 de FinCEN.
¿Y que pasa si uno no lo declara?
El incumplimiento con esta ley puede implicar sanciones civiles y penales, y ocasionar la confiscación de su(s) instrumento(s) monetario(s).
Clarito clarito…
Más info… acá.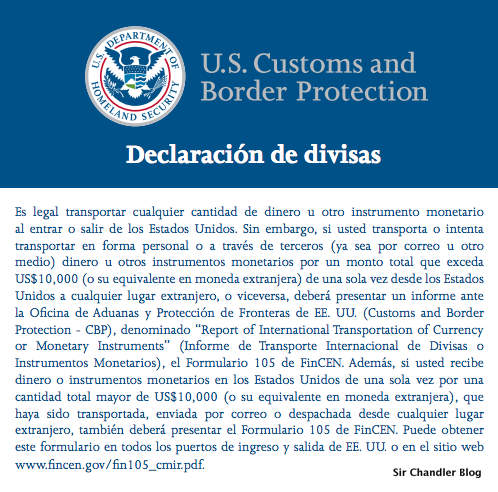 O sea… si la ley dice eso y te agarran con 12.500 porque no los declaraste… cof bo cof lu cof do cof
Como dicen los yankees… "es la ley"
Y la ley dice claramente… podés transportar cualquier cantidad de dinero… solo informalo.